Please enjoy a few pictures from our records and clients:
I would like to thank our valued customers for their great photos, too many to include them all here.
Hugh Fearnley Whittingstall
The Homeheater in action in the home of famous celebrity chef Hugh Fearnley Whittingstall.
Kevin McCloud of Grand Designs with a recently installed XL Homeheater.
The homeheater heating the customers at the amazing restaurant of Spode Works
The Homeheater installed in a thatched home in Dorset.
The NFU were impressed with our test results and happily gave us the go ahead to place in a thatched home. The very low chimney temperature makes chimney fires or dangers with sparks almost impossible.
Like a Kachelofen it has been used here to keep food warm on and even sit on! (pictures on our facebook page).
The Royal Cornwall Show, Day two, with our ceramic fire bowls in foreground.
The Homeheater, covered with heat sensors and plugged into nearly every emission tester in the book. SGS Laboratories 14/2/2013. Rated as 84% efficient combustion and just 154 degrees C flue temperature.
​
The top piece requires lifting equipment, a substantial ceramic thermal mass. (Cognac, France.)
​
"A picture of our masonry stove after a year of use. We love it for its ease of use, and the knowledge that after just an hour's firing we can just enjoy the warmth over the next 12 + hours."
Alastair . (He has just invested in another - pictures to follow.) Note the stove pictured has 2 extra layers.
Homeheater about to be installed in a huge log cabin,
Inverness.
Cornwall Sustainability Awards
Cornish Masonry Stoves at the Cornwall Sustainability Awards. 2015
The Homeheater in action in the home of Artist Shani Rhys James (her painting). She regularly exhibitits in the National Library of Wales, Aberystwyth.
12
Bespoke Pizza oven addition.

Recently installed in Chagford, Devon. (18/09/2022) It includes 4 extra layers of height and a considerable addition of thermal mass.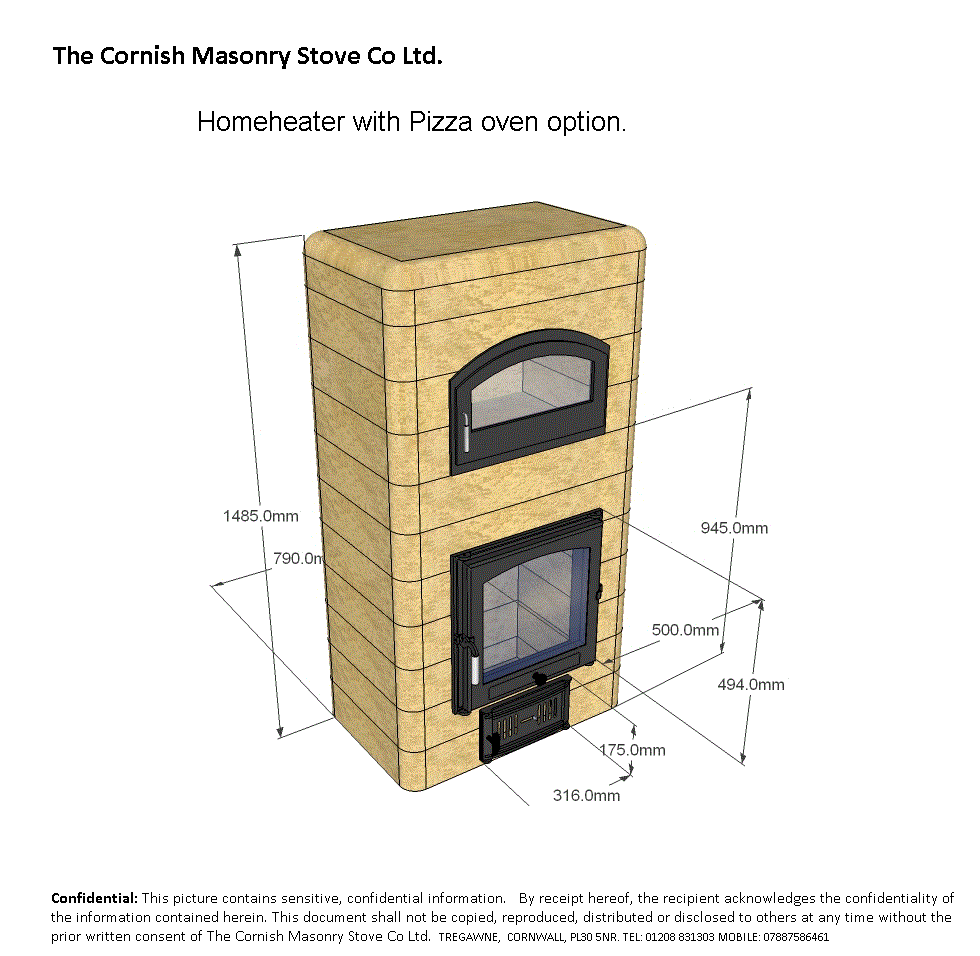 A Previous design.
We now use an extra layer to raise the efficiency.
Thank you for taking time to browse our gallery.
Please bookmark this page if you like.